Company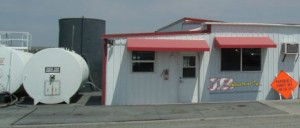 Our mission is to provide the highest quality products and customer service to asphalt paving and construction companies as well as the public.
JB Industrial's retail outlet and manufacturing facility came to life as a response to the absence of a local source for sealcoat and asphalt maintenance products. Today, JB Industrial (JBI) is both a manufacturer and distributor of a wide line of asphalt maintenance supplies, as well as a licensed dealer for several lines of asphalt maintenance equipment.
As a supplier of specialty products and equipment, JBI delivers products that preserve, restore and repair. Our safety products and gear keep hard working crews and the public safe in busy construction areas.
JBI was incorporated in 2000 by Jim Bailey, Founder and CEO of Hardrives Construction Inc. Through the years, Hardrives Construction, Inc. has built a reputation as a quality contractor with expertise in asphalt paving, cement, excavation and reclamation projects.